Loan Equipment
This page provides information about all the different types of equipment you can borrow from ICE.
Catalogue of Resources
You can download a PDF version of our catalogue by clicking the picture of the Resource Catalogue.
GoTalk Pocket
The GoTalk Pocket is small and lightweight and easy to carry in your hand or pocket. It has 6 message keys with 5 levels giving a total of 30 messages.
Overlays slide in over the buttons, and are easily changed when switching levels. They are stored in a removable compartment in the back of the unit when not being used. 
GoTalk button
The GoTalk button records a single 10 second message. It is incredibly easy to use and very versatile.
GoTalk One
An easy to use single message talker. Record up to 20 seconds of your message with a covered space to add a photo or symbol. Single large button to operate beneath picture.
GoTalk Express 32
Choose between 2 methods of operation: Standard and Express.
The standard method works like any GoTalk device - touch a message key and it talks.
In express mode, users can link messages together to play a sequence. These messages play seamlessly in the order selected to simulate a typical conversation. Users can edit their recorded expression, plus save one for the long-term.
Records 8 seconds per message.  Plays up to 8 messages in a sequence.   Has full scanning capabilities.   Visual clues surround messages (4 LEDs).  5 recording levels. Level and record lock.
Includes user guide and shoulder strap.
GoTalk 32+
The GoTalk 32+ has five levels, giving this talker a 163 message capacity. The message keys record for 8 seconds and the core vocabulary keys record for 17 seconds. It also has a quick record feature, volume control, a built-in handle and key guard, an overlay storage compartment and instructions printed on the back.
GoTalk 20+
GoTalk 20+ is lightweight and rugged and has a 100 message capacity (20 keys and five recording levels). PLUS five "core messages" which stay the same on each level so you don't need to re-record essential messages for each level.
MegaBee
Provides a very effective means of communication for those with restricted movement and little or no speech. The Megabee works by using eye movements to translate to words.
Use colour coded buttons to spell out a name or request, and the MegaBee will remember that command.  Use eye movements to confirm selection with the recipient and form a vital communication link.  Also comes with Bluetooth.
Highly recommended for Speech and Language Therapists.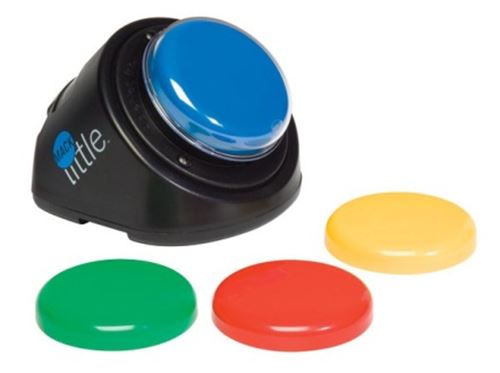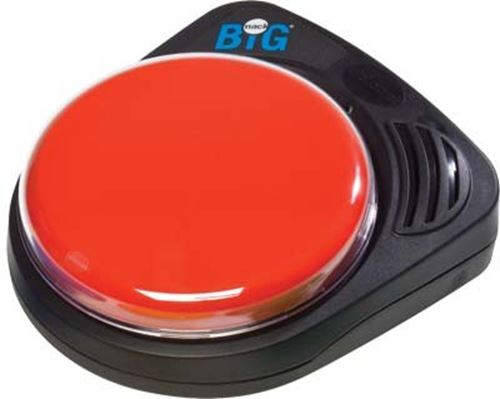 LITTLEmack
Simply record any message directly into the LITTLEmack Communicator for one-touch, single message playback up to two minutes in length. Connect a toy or battery operated appliance for instant positive reinforcement. With its angled base and 2½-inch activation surface, LITTLEmack is perfect for mounting, and is recommended for persons who can access a smaller target.
BIGmack
Record any single message directly into the BIGmack communicator and press its activation surface for playback up to two minutes in length. With its large, 5-inch activation surface, BIGmack is an excellent choice for persons with visual impairments or who require a larger target area. 
Key Features:
Easy single-message recording
Crystal-clear digital sound
Volume control and ON/OFF switch
External switch jack for specialty switch operation
Toy/Appliance jack with cable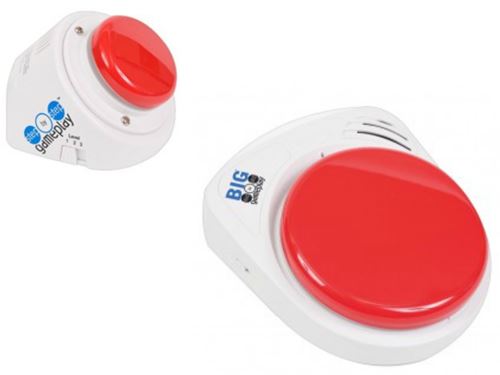 LITTLE step-by-step communicator
Has the exact same features as a regular LITTLEmack.  Only the step-by-step has 3 levels to record 3 messages in sequential order.
BIG step-by-step communicator
Also has the exact same features as a regular BIGmack.  Only the step-by-step has 3 levels to record 3 messages in sequential order.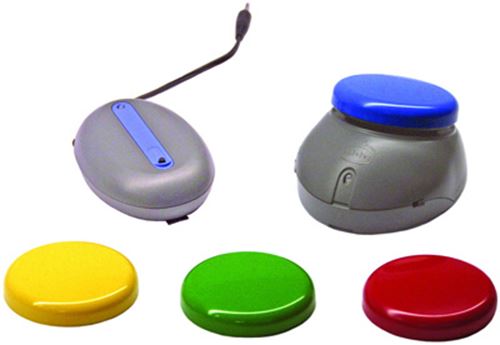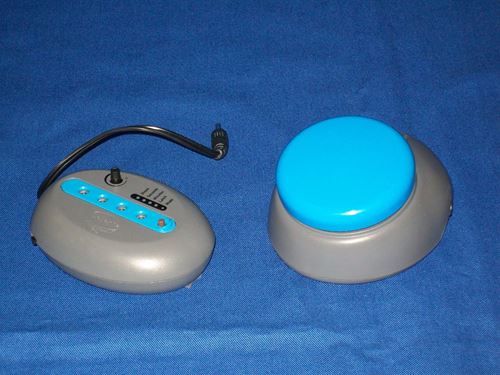 Jelly Beamer Transmitter
This switch-top button has a transmitter and a receiver hooked up wirelessly.  Plug any switch-adapted toy into the receiver.  Push the transmitter and the toy will activate.  It works up to a range of 30 feet (9 metres).
Choose your favourite coloured top.
Switch-adapted toys are now available from ICE Resources.
Jelly Beamer with Wireless Switch Latch and Timer (WSLAT)
The Jelly Beamer with Switch Latch and Timer (SLAT) brings 4 modes of control to your wireless switch. The four modes are: timed seconds; timed minutes; latch, and a direct mode that operates just like an original switch. Effective range is up to 30 feet.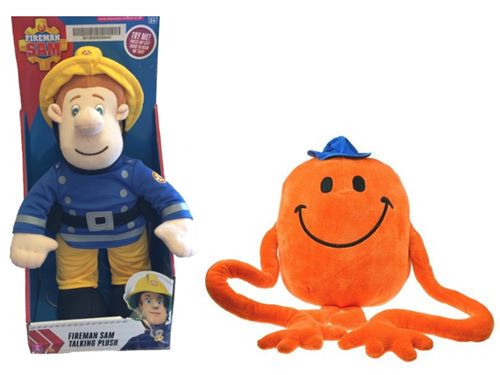 Switch-activated toys
Mr Tickle
The Mr Tickle plush toy will wriggle his arms when you push his belly.  Battery adaptor included for switches.  
Works great with a Jelly Beamer Transmitter.
For 10 months and up.
Fireman Sam
The Fireman Sam plush toy says character phrases and play music when the switch is activated.
Battery adaptor included for switches.
Works great with the Jelly Beamer Transmitter.
Bookworm
Transform any book in your library into a switch-adapted audio book in minutes! Wouldn't it be great to have grandpa's voice on that special book that your child can "read" to himself before bedtime? With bookworm, you can!
Don't limit yourself to the small selection of available push-button audio books on the market today. With a built-in SD memory card, Bookworm will let you create your own audio book library at a fraction of the cost.
Key Features:
Manage audio books on the included SD cards LCD screen displays all key functions
Single switch operation available or direct access on the touchpad
Function lock available
External headphone jack for quiet reading
Magnet-system for recording books longer than 10 page-pairs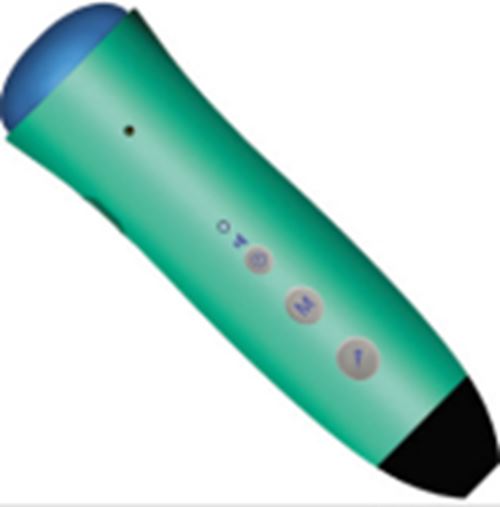 PENpal brings sound to paper.
When the pen touches a poster or a book that is pen-enabled, it speaks. The pen detects soundspots on any page in a book or on any graphics on the poster and plays back narrations, questions, answers, quizzes, music or sound effects - whatever audio has been pre-programmed into the paper.
The PENpal doesn't just play back pre-recorded sound. You can use the pen to record yourself, or let children record themselves, and listen to recordings instantly. Simply switch to the recording function, touch a soundspot and record and save. This is a fantastic way to improve speaking, listening and storytelling skills. Children can re-tell the stories in books, and with our Talking Stickers, they can add content to anything: posters, books, puppets...
This extremely exciting new resource can be used in countless ways. It's fantastic for EAL: parents can record in their own language for children, and teachers can customise their resources to make them fully inclusive.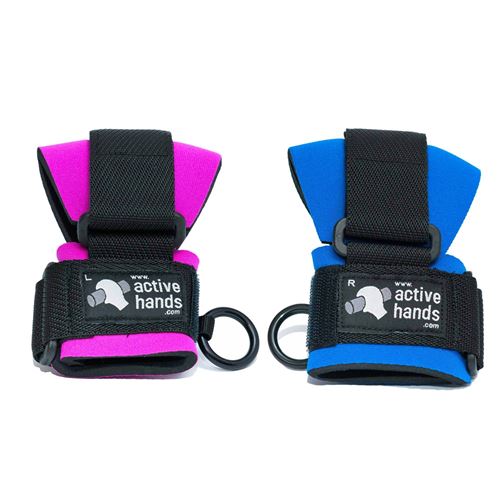 Gripping Aids
Perfect for people who struggle to grip objects.  Ideal for people with motor-neurones who want to use the PENpal.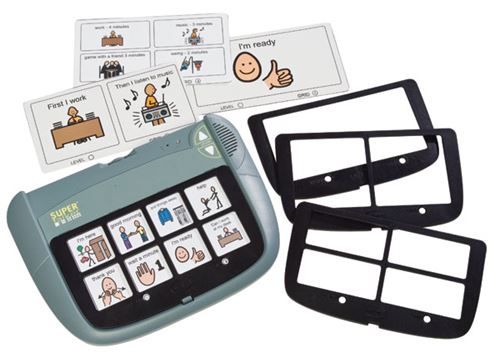 SuperTalker
A powerful, yet easy to use voice output device, SuperTalker is designed to grow with your student. SuperTalker can be configured with one, two, four and eight messages, allowing it to change with an individual's needs and abilities.
SuperTalker features 16 minutes recording time and a total of eight levels of messaging capability. Not only is every message location accessible via external switch, SuperTalker is even equipped with a special "Step Ahead" jack allowing a single switch to activate SuperTalker's messages in order. AT Specialists will find SuperTalker particularly useful as a portable assessment tool.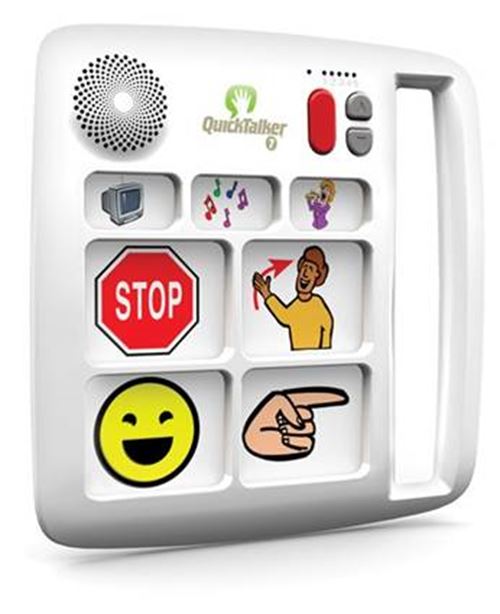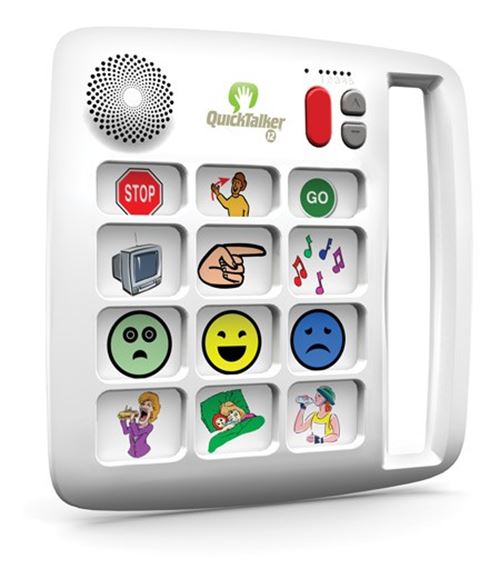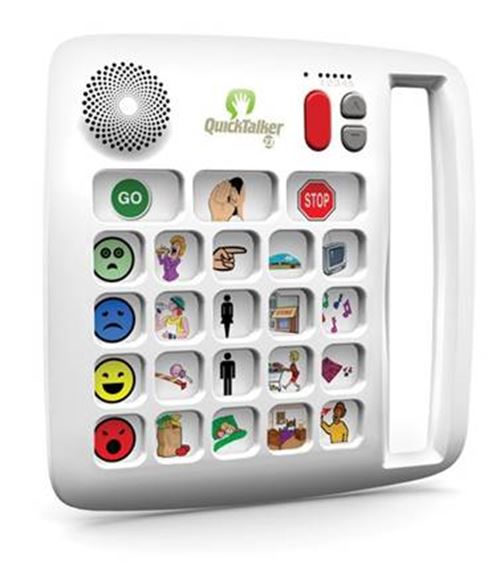 QuickTalker

AbleNet's new easy-to-use, go-anywhere communicator! With QuickTalker, you will be ready to start communicating in minutes.
QuickTalker features a modern design – ideal for girls or boys of any age – yet rugged enough for everyday use.
The variety of message locations - and five available levels - on the QuickTalker™7, 12, and 23 provide the flexibility you need to customize the learning outcomes for each student.

Key Features
Easy-to-use
Durable construction
Available in 7, 12, and 23 locations
Built-in handle for easy portability
Built-in symbols storage
QuickTalker7
Static Messages: 3
Message Locations: 4
Levels: 5
Total message capacity: 23
Recording Time: 6 Minutes
 QuickTalker12
Static Messages: 3
Message Locations: 9
Levels: 5
Total message capacity: 48
Recording Time: 12 Minutes
 QuickTalker23
Static Messages: 3
Message Locations: 20
Levels: 5
Total message capacity: 103
Recording Time: 20 Minutes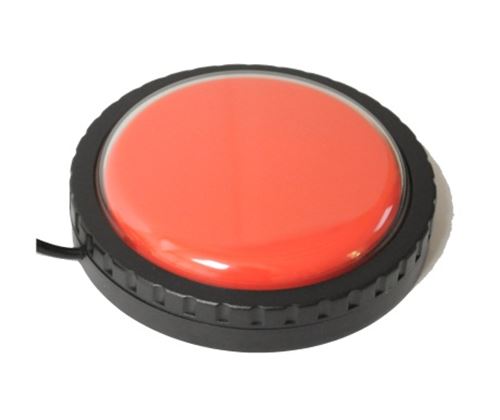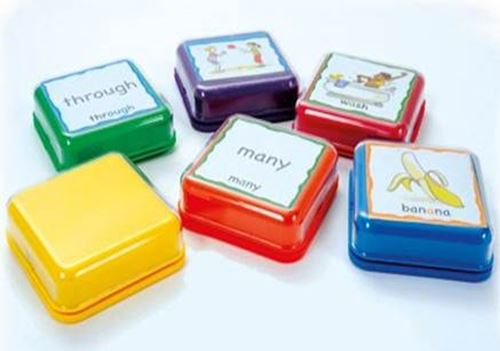 Lib Switch
The brand new Lib Switch! A quality switch available in 4 colours. Comes with removable clear cap for inserting symbols.

Twist the outer black notched ring to unscrew and lift away from the switch, you can now remove the clear plastic cap to position your symbol.
Big-Point
The Big-Point can record 30 seconds of sound, and will fit many applications including literacy, numeracy, science and much more.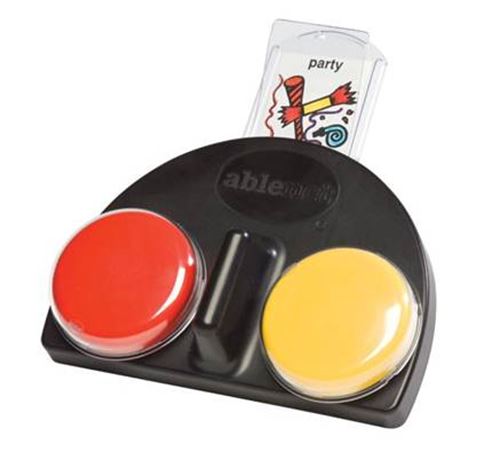 The iTalk2
The iTalk2 dual-message communicator gives students the freedom to choose between two activities, such as listening to music or a story.
The iTalk2 has 2 large durable buttons, with an easily removable clear plastic cover. This is ideal for inserting photographs or symbols below the cover. 
iTalk2 is also perfect for asking and answering questions, telling jokes and making comments in social situations. With 2 minutes of recording time, the possibilities are endless. 
It also offers the option to add a toy or appliance for immediate positive reinforcement and to enhance messages.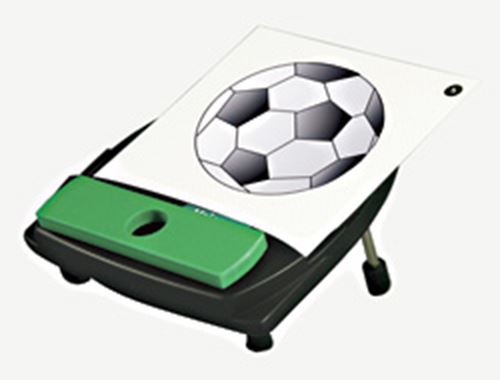 The VoicePod 
Has 36 reusable, two-sided sleeves, each with an ID strip to access the corresponding recordings. This means that you can have up to 72 messages stored on the VoicePod. 
The VoicePod is incredibly easy to use, firstly, you put the information you want into the sleeve, for example: language cards with words or phrases, symbols with text, or photos that tell a story. 
You then slide the sleeve into VoicePod and record up to a nine second message. A record/lock feature prevents accidental erasures. Once you have recorded your messages on the sleeves, the student can then play the corresponding message by sliding the sleeve into the pod. 
You can erase or re-record a message as many times as you like.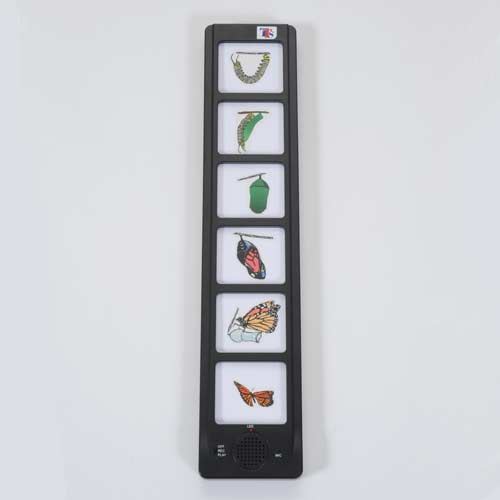 Story Sequencer 
Create talking stories, class timetables or questions and answer games on this recordable bar. 
Simple to use children or teachers can slot in up to six of their own images or words and then record a corresponding 10 second message per slot, and then just press to play back!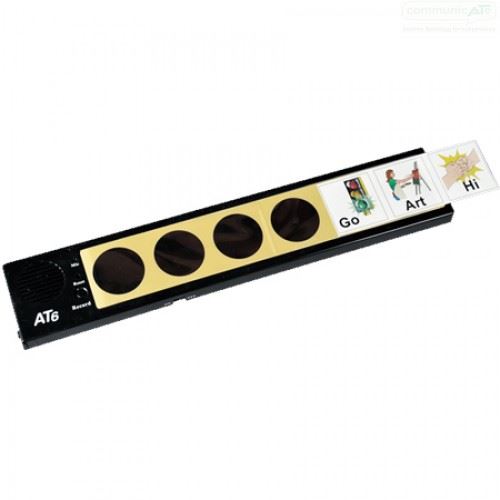 Attainment Talker 6 
This slim, lightweight device is like a mini Story Sequencer, only easier to carry.  It can play six messages with up to 10 seconds recording time.  Simply switch on and push the message key while holding the record button. 
Overlays can be slide into the clear, plastic pockets covering the message keys. 
Create a talking school timetable or daily schedule to carry around.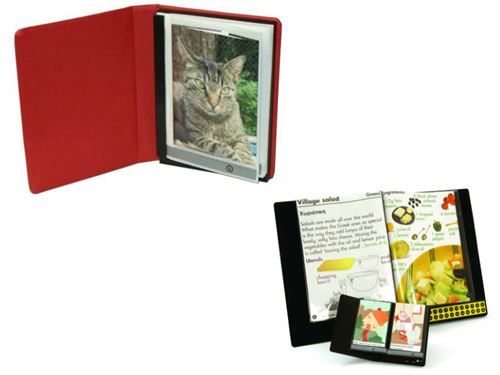 Talking Photo Album 
A very simple to use device with many uses. Each of the 24 'pages' can hold a 4"x6" photograph, or symbol, or magazine cut-out etc. Each page can record up to 20 seconds of message which can be played back by simply squeezing the play button. 
Ideal for story-telling, instructions, recipes and much, much more!  Why not borrow "Creative ways to use talking photo albums" at the same time? 
Talking Photo Album (A3) 
The all new A3 sized Talking Photo Album has a louder speaker and larger visual area, suitable for children to display picture books, or for exhibiting complex timetables/activities. 
Insert picture or template into plastic wallet and record a ten second message per page.  Play back the message at a push of a button.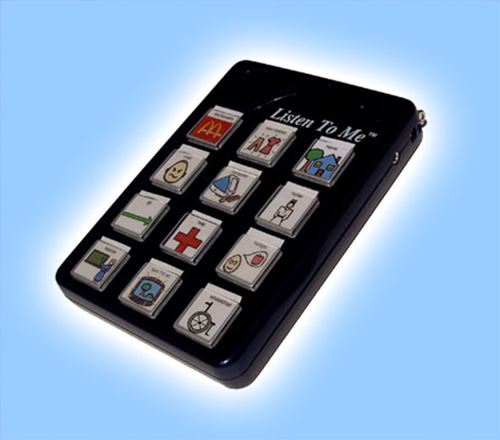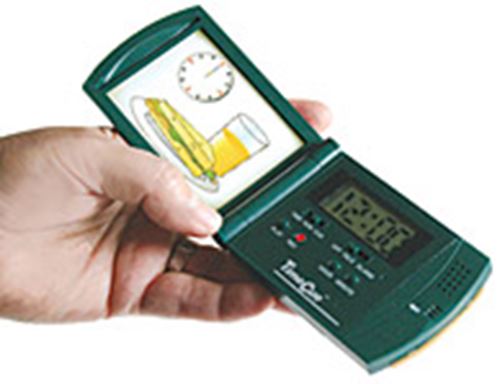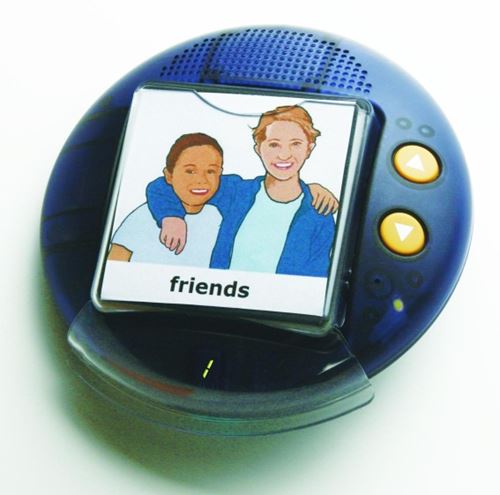 Listen To Me 
An easy to use message talker with 12 message buttons. Record a message of up to 10 seconds per button with a covered space to add a photo or symbol. 
Time Cue 
A single message speech output device that's linked to a digital clock. You can record a message and set it to the play it back at the right time. Ideal for reminders, schedules etc. Space for a picture/symbol as an additional cue.
Big Button Communicator 
Powerful communicators with easy touch activation. The Big Button has a single 48 second message and three 24 second messages in tap to talk mode.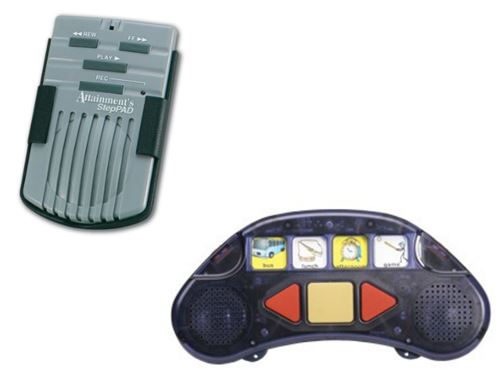 StepPAD 
Works like a tape recorder……only better!
Ideal for recording step-by-step instructions. Users press "play" to hear the cue as often and needed. Press "FF" for the next step or "REW" for the previous one. Instructors can change one step without affecting others within the sequence.
StepPAD 2 
Record your step-by-step messages one of the four buttons and label with your preferred overlay slide.  Record up to 30 steps in one activity (one of the four slides) to form a sequence. Push Next to hear the next step, Play to repeat a step and Back to review last steps.  
Each activity has two levels, making eight sequences and a total of 240 steps. Designed like a video game controller and easily portable in a pouch, pocket or handbag, the StepPAD 2 helps improve multitasking by breaking a workload down into easy chunks.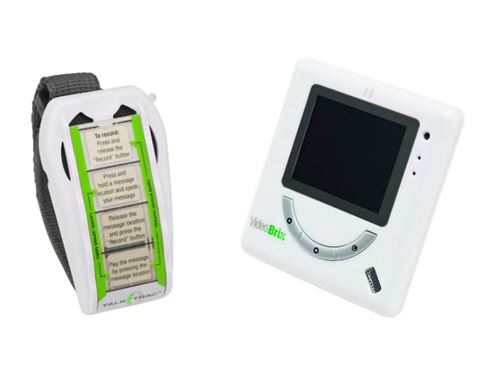 VideoBrix
Quick and easy to use, record a single message with the device's on-board camera and microphone.  The screen will show you which buttons you press to play or record a message.
USB point recharger
LCD screen, digital camera and microphone
90 seconds recording time
TalkTrac Wearable Communicator
Features four message keys with two levels each, so can hold eight messages with up to ten seconds each.  Can be worn on the wrist during leisure activities.  Battery charger and Velcro wrist strap included.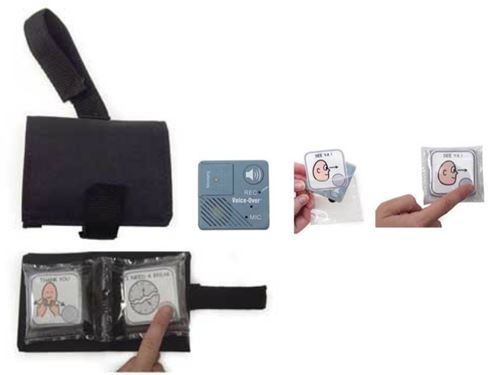 Talking Pockets in Wallet Carrier
The Talking Pockets Wallet Carrier can hold either 2 or 4 Talking Pockets and hooks on belt or belt loop with webbing strap and Velcro tab. There's also a Velcro tab for easy opening and closing. Each Talking Pocket can play a 10 second message.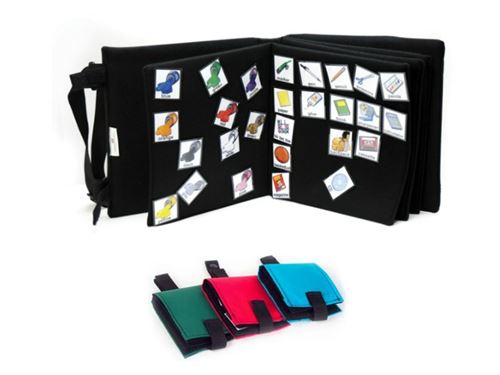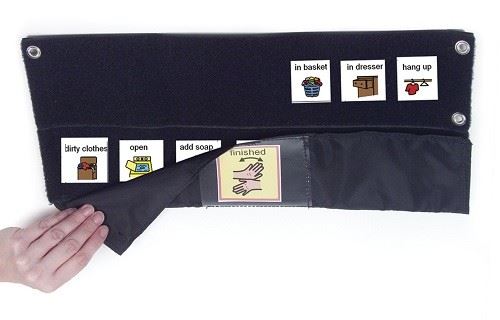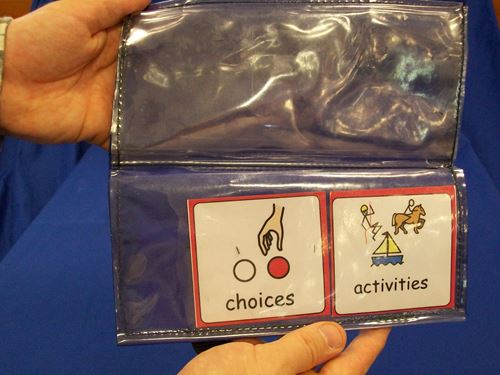 Portable Communication Folders and books
A picture communication/choice folder for use with Velcro backed pictures, images etc.
Lightweight and durable, with handle for easy carrying. We have many different sizes and varieties of these, including wallet size for everyday use!
Comes in A5, A4 and A3 sizes.  Wallet sizes come in different colours.  A5 folders come in different patterns
Picture Schedule with Finished Flap
Put pictures under the flap when finished, creating a visual sequence of tasks completed! This picture schedule hangs with grommets and consists of two 56 x 10 cm loop side of Hook & Loop panels with black vinyl flap. It includes a clear pocket to insert "finished" picture/symbol and can be hung horizontally or vertically.
Clear Schedule with Slip-in Pockets
Made of durable, washable, clear vinyl (plastic) and with 8 10 x 6 cm pockets, this schedule is equipped with grommets for hanging either horizontally or vertically.
Portable Waist Communicator
Wear the Communicator on waist and flip to communicate with pictures/words. It has four 100 x 225 mm clear vinyl pockets and an outer cover made of durable nylon with a zipper on the outside cover for personal items/extra pictures and two Hook and Loop tab closures for easy opening/closing.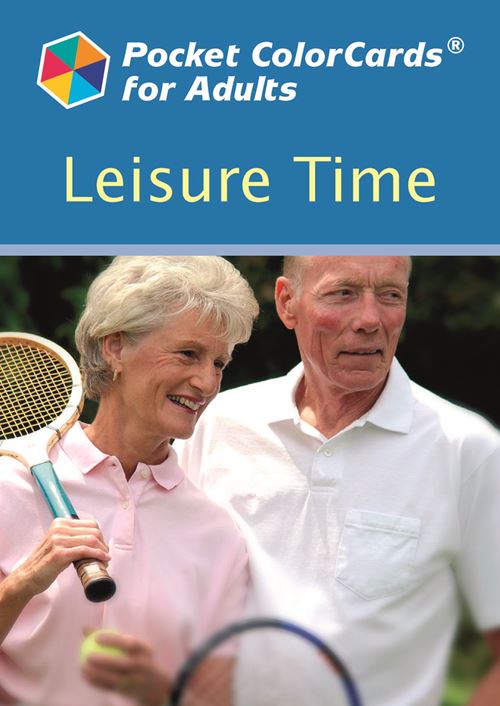 Pocket ColourCards
These pocket sized set of flashcards - comparable in size and quality to a good pack of playing cards - are designed to support teaching and therapeutic input. Each set contains 18 cards printed with different images on both sides.

Down Literacy Street
You can custom make learning games whilst children have fun moving the colourful cars "Down Literacy Street". 
The cars are equipped with "hooks" enabling them to stick to road. You can attach pictures or words to the front of cars and/or to the road. 
Use can them make up games to review vocabulary, sequential concepts, spelling, reading or to create sentences.
Game includes 3' x 8" road and 8 removable cars.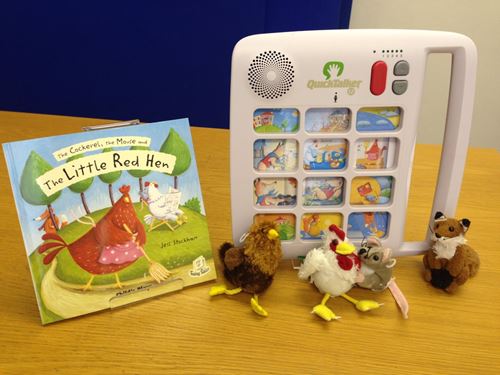 Sensory Stories
Bring stories to life and get your children involved in telling the story.
Each pack comes with a Quicktalker 12 programmed with sounds appropriate to the story, a touch and feel story book and a variety of props such as puppets to create a truly sensory experience.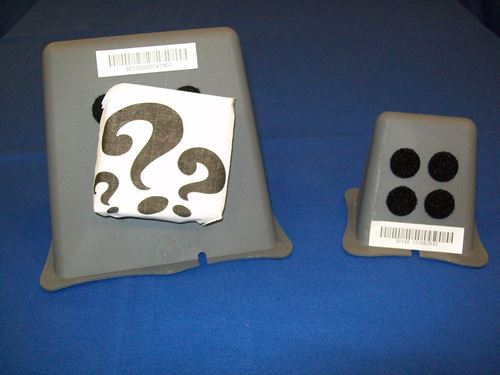 Switch Mounts - Large and Small
Switch mounts enable switches to be securely positioned and repositioned in the most efficient and comfortable way for the switch user. Many switch users have greater control if the switch is placed at an angle. These double sided switch mounts give two alternative mounting surfaces (55° and 85°). A Hook and Loop switching pack is provided for one switch.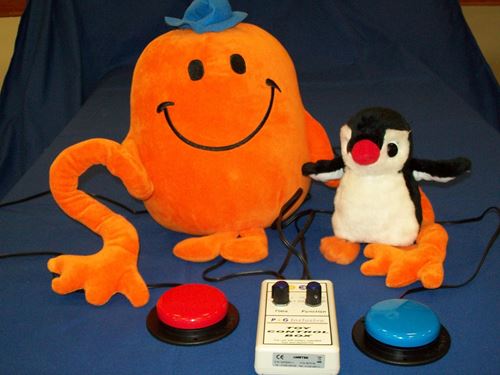 Toy Control Box
A Control Box allows switch control of battery toys and devices. Connect one or two toys; add one or two switches for each toy. Easy access to different modes of control, including: Play for a designated time -- press switch to turn on, press to turn off -- Hold down the switch to keep playing -- Turn on with one switch, turn off with the other. You will need standard battery adaptors to connect toys and devices.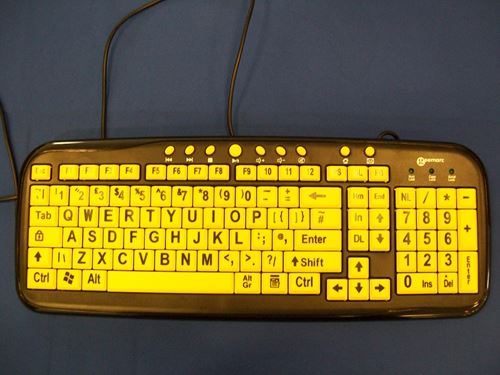 Multimedia big letter keyboard (Standard UK layout)
The yellow keys have large bold black characters for visual assistance. The keyboard has an enhanced windows layout (103 keys) with buttons to control music/video playback, take you to your 'home' screen or straight to your emails. This keyboard is compatible with most versions of Windows.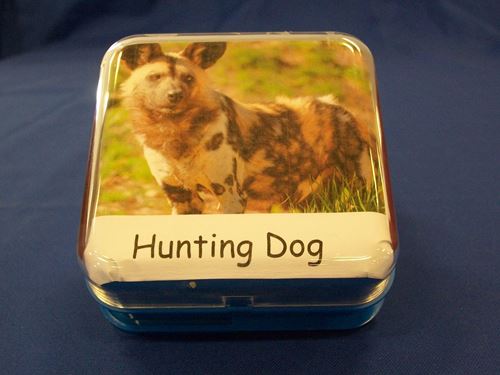 Sound Shuffle
Sound Shuffle records and plays back up to 240 seconds of sound. With a removable clear top you can create pictures, symbols, numbers or letters to match your recordings. The large size is ideal for children with visual or motor skill impairments. The Sound Shuffle has two play-back modes: Sequential and Random.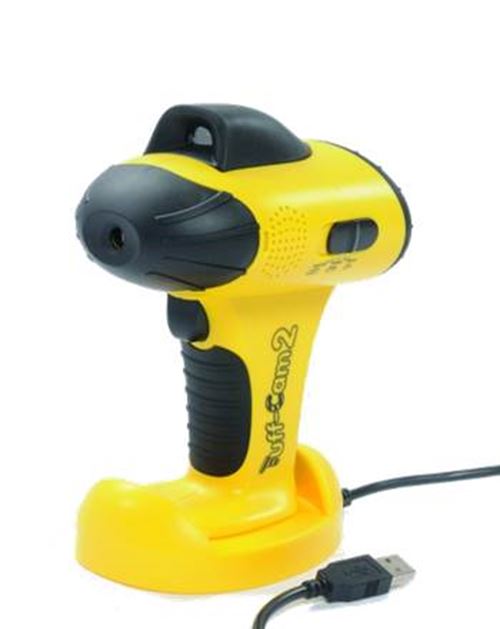 Tuff Cam 2
Tuff Cam 2 is a 12 Megapixel switch adapted camera with video. Features include a rugged design which can be hand held or mounted and a rechargeable battery. The 32MB internal memory can be expanded up to 2GB via SD card. With a docking station for simple PC connection, files can be downloaded to either PC or Mac.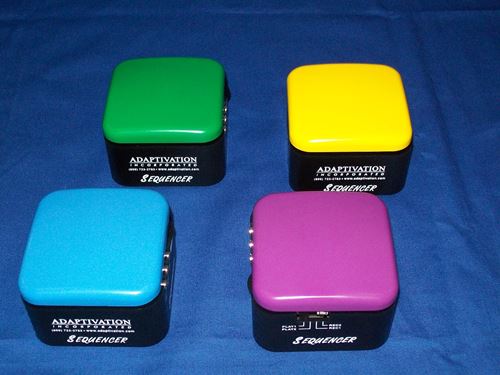 Sequencer Buttons
The Sequencer allows users to record and play back messages in sequence. The Sequencer has 3 minutes of record time, 90 seconds per level. Each level is recorded independently. Can also be used as a single-message device! The Sequencer has an external switch jack, an external speaker jack and a relay jack for cause-effect. The Sequencer has excellent sound quality and a long battery life. Sequencers come in four colours: blue, purple, green and yellow.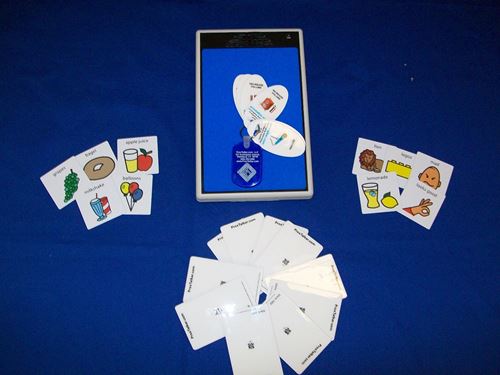 LOGAN ProxPAD Choice Maker
The LOGAN® ProxPAD™ choice maker is designed for children with limited hand function and/or visual impairment. Using the ProxPAD™ choice maker in creative ways enables users to make meaningful choices and play. Features: Touch or swipe tags on the ProxPAD™ to play your recorded vocabulary; Large target area for message retrieval; Easy to generate tags to match physical and visual abilities; Use in the classroom or mount on wall for school environment use; Incorporates many of the familiar LOGAN® PROXTALKER® communication device features.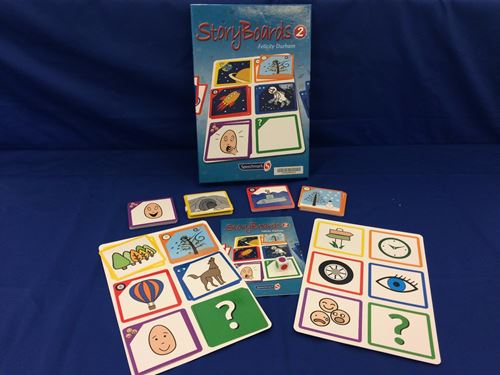 StoryBoards
Suitable for use with either individuals or groups, 'StoryBoards' have been designed to help children with speech and language difficulties to learn the skills needed in order to tell a sequenced story in an enjoyable way.
These packs come in two versions: the original 'Storyboards', and the updated 'StoryBoards 2', which introduces fantasy locations and suggests activities to encourage the development of imaginative writing and storytelling.
QuickTalker1
AbleNet's single message recorder is touch sensitive and easy-to-use. Record a message and playback by hovering your hand above the activation area.
Tech II 8x6 Communication Device
The Tech II 8 is an augmentative communicator with 6 levels of messages. The standard message length is 4.5 seconds per message or extended time with 9 seconds per message. In addition to internal speaker and record button, there are external jacks to amplify and assist in recording.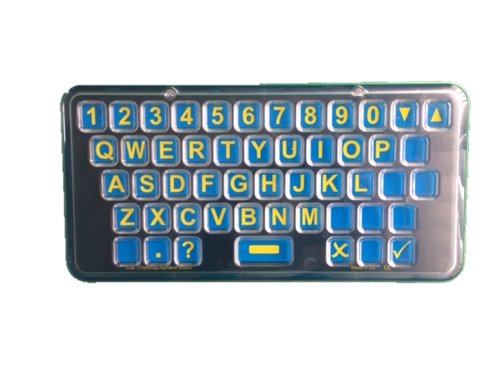 Frenchay alphabet board
The FAB™ (Frenchay Alphabet Board) is a non-slip, washable, hygienic, positive location alphabet board. Ideal for any person who is literate but is unable to speak. This may be due to vocal cord damage, swallowing difficulties, tracheotomy, stroke, MS, MND, ALS, Rett syndrome, dyspraxia, Parkinson's disease, or people with general communication problems, ventilation or speech difficulties. It is also a useful spelling device when trying to talk to people with hearing problems. FAB is a useful emergency back-up for users of higher technology equipment such as eye-tracking of text to speech devices. Having no batteries it is always available.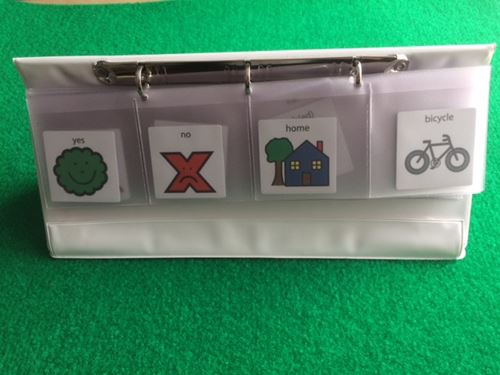 4pic4
Ringbound folder with inserts and communication symbols. The folder can stand on a surface to act as a display book. The inserts can also be used to store your images for communication activities, or make a simple communication book.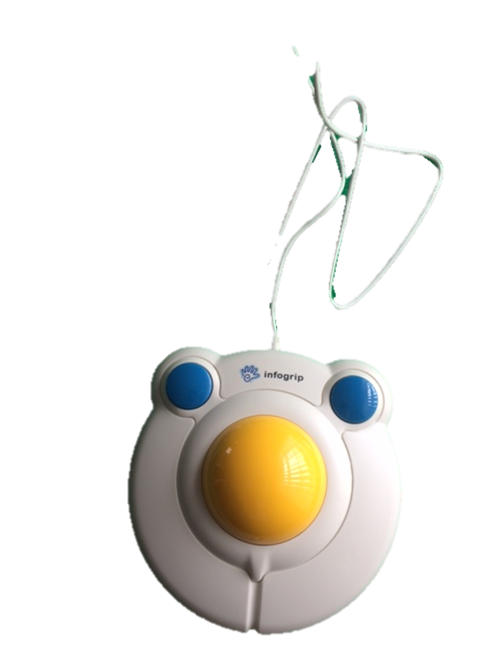 BIGtrack trackball
The BIGtrack has a 3 inch trackball which makes it the largest trackball available. The large ball requires less fine motor control than a standard trackball and it is ruggedly built. It has a left and a right mouse click button located behind the trackball to avoid unwanted mouse clicks. The BIGtrack trackball also allows for 2nd Mouse Connection both the BIGtrack and a second mouse can be connected allowing simultaneous participation. The bright large 3" trackball helps to make mouse movements easy and accurate. While the oversized buttons make mouse clicks simple for those with poor motor control. This large trackball is also perfect for kids of all ages.